What's the Hype of Hudson Yards?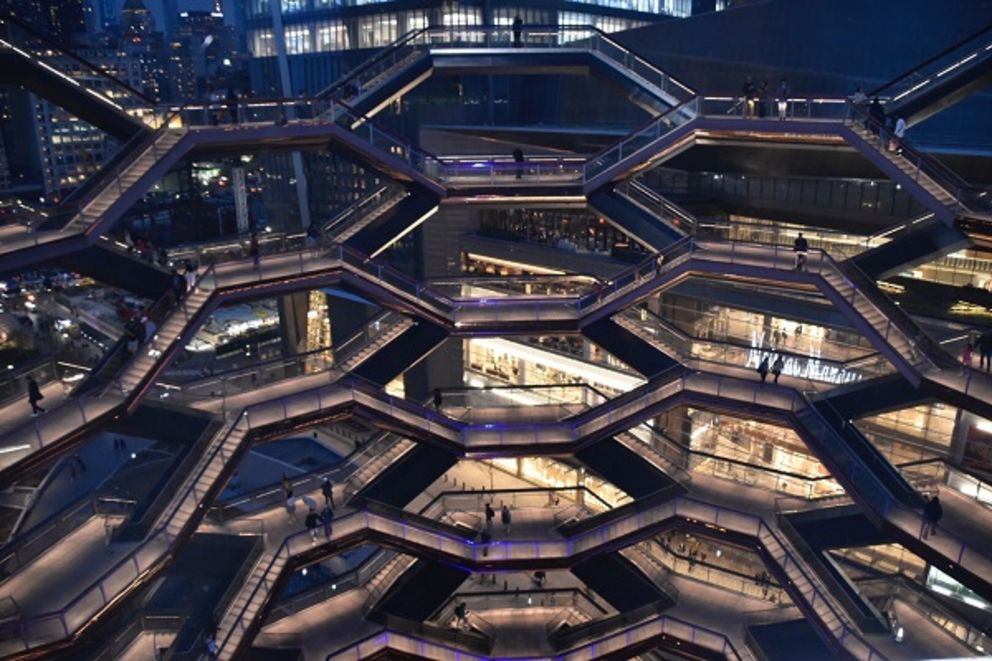 The highly anticipated opening of The Vessel and The Shops & Restaurants at Hudson Yards has given New Yorkers and tourists a whole new area to explore within Manhattan.
Located on the West Side between 42nd and 28thStreet, Hudson Yards has historically belonged to different rail lines, including the Hudson River Railroad. The area evolved into a storage yard for MTA subway trains in 1987 and is now being revitalized through dramatic real estate and infrastructure developments. Most notably located within Hudson Yards is the new Shops & Restaurants at Hudson Yards and the newly finished Vessel.
Created by designers at Heatherwick Studio, The Vessel—a $200 million interactive design piece—is a landmark of monumental proportions. It is comprised of 154 flights of stairs and 80 landings offering remarkable views of the city and Hudson River. There is no entry fee, but tickets are required. Tickets can be reserved online, or, if you prefer to wait, a limited number of tickets are available on the same day.
The Vessel opened in March 2019, so be prepared for crowds and long lines. It's not surprising that the best views of The Vessel are at sunset, which will be the busiest time of day. However, you will leave with some incredible photos. If you don't want to climb the stairs, or if you have someone in your party that cannot climb stairs, an elevator can take you to the top of the structure.
While visiting The Vessel, you can also stop at the newly developed Shops & Restaurants at Hudson Yards. Located next to The Vessel, this shopping mall is home to the first and only Neiman Marcus in Manhattan, along with many other retail stores and restaurants.
The north end of The High Line is near The Vessel, where you can walk along the Hudson River towards Chelsea. If you would rather head home or venture to a different part of Manhattan, the Hudson Yards MTA stop for the 7 line is north of The Vessel and connects you with most other New York City subway lines to take you where you need to go.
Pro Tip: We recommend visiting The Vessel and The High Line on the same day. Based on your time slot reserved, you can start your day at Chelsea Market before making your way up The High Line, or you can begin with The Vessel and end your day with dinner in Chelsea or Greenwich Village.
The developers of Hudson Yards are not finished working yet! The venue space, The Shed, and the viewpoint, The Edge, are still in development. With all this activity, Hudson Yards will have the eyes of the city watching to see what comes next.