Your Ultimate Guide to Celebrating the Holidays in New York City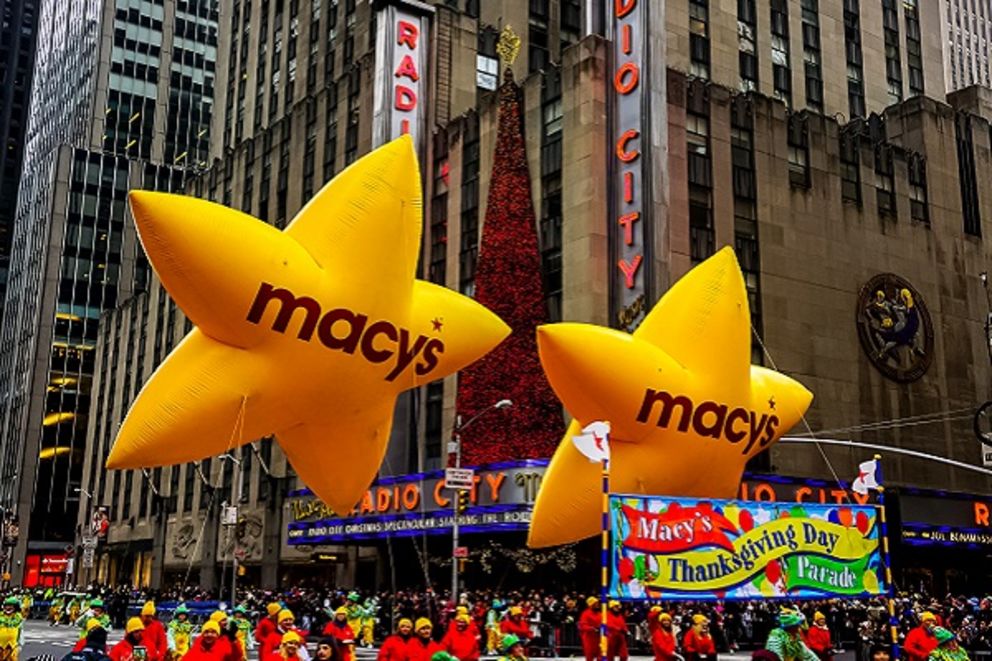 Celebrating the holidays in New York City is a wonderfully unique experience that should be on everyone's bucket list. From ice skating to viewing the Macy's Thanksgiving Day Parade or the Rockefeller Center Christmas Tree lighting, we've compiled a list of the best things to do or see while in NYC for the holidays. Let us know if you agree!
Thanksgiving
Balloon Prep viewing
From 1-8pm on the day before Thanksgiving, all the Macy's Thanksgiving Parade balloons will be blown up on the Upper West Side. This spectacle is almost as popular as the parade itself and draws a large crowd.
Insider's Tip: Enter at West 73rd Street and Columbus Avenue and follow the crowds and volunteers to Central Park West and West 77th Street. As you make your way up to West 81st Street, all of the balloons will be visible as they are being inflated and kept in place with nets and sandbags before the parade. The exit is at 81st Street and Central Park West, right by the B/C trains.
This event draws thousands of people. Make sure to dress warmly and be prepared for a long line. It will likely take a couple of hours to make your way through this area. Mass transit is the best way to get to and from here. To get there, take the B/C trains to 72nd Street and walk one block east to Columbus Avenue, then north one block to 73rd Street.
Macy's Thanksgiving Day Parade
If you are in Manhattan on Thanksgiving Day, watching the parade in person is a memory you'll never forget.The parade route begins at 9am at West 77th Street & Central Park West, continues down Central Park West, and turns at Columbus Circle onto Central Park South.
From there, the parade continues down 6th Avenue until it finishes at Herald Square (where Macy's is located!). Some parts of the parade route are restricted to public viewing due to cameras and pre-purchased seating.
Insider's Tip: We recommend finding a spot to view the parade along Central Park West at the beginning of the route or on 6th Avenue between 59th St. and 40th St. Plan to arrive by 6:30am, as the streets fill up fast. If you are attempting to take the subway, the NYPD begins to shut down access to some exits when the streets fill up due to parade viewers. This usually begins around 7:15am.
Rockefeller Center Christmas Tree Arrival
Every year, during the second weekend in November, a 70-foot Norway spruce is transported to Rockefeller Center for the holiday season. While the tree is often from upstate New York, it has also been brought in from Connecticut or Pennsylvania in the past. The tree won't be lit until the beginning of December, but it is an amazing experience to watch how they transport the tree to Rockefeller Center, lift it, and begin to decorate it.
Rockefeller Center Christmas Tree Lighting
The Rockefeller Center Christmas Tree is always lit the first week of December and this year the lighting will take place on December 4, 2019. This televised event includes live musical and ice-skating performances and is a great way to begin the holiday season. The festivities begin at 7pm; however, the actual tree lighting will happen around 9pm. Attendance is free and open to the public.
Insider's Tip: plan to arrive around 3pm in order to secure a good view.
Radio City Music Hall Rockettes' Christmas Spectacular
Around the corner from Rockefeller Center is one of the most well-known acts in the entire world! You can't visit New York City during the holidays without a visit to the Radio City Rockettes' Christmas Spectacular at Radio City Music Hall. Running from November 8th-January 5th, there is no excuse not to see the show! With performances to classic Christmas songs and a live nativity scene, this is an event that the entire family will enjoy.
Ice Skating in New York City
Starting at the end of October and running through April, ice skating opens in Manhattan at several different locations.
Rockefeller Center
Skate under the iconic Rockefeller Center Christmas Tree at the Rockefeller Center Ice Rink.
Cost: $25-33 depending on holidays and peak time, plus $13 skate rentals.
Bryant Park
The Winter Village at Bryant Park is a must-see while visiting NYC. Within the park, you'll see the Bryant Park Christmas Tree, a skating rink, holiday shops, and more. Ice skating is free; you only pay for the skate rentals. However, this does mean that the line to skate can be over an hour long.
Cost: Admission is free, but skate rentals can cost $18-$33 depending on the day.
Central Park
Central Park's Wollman Rink is another great option for ice skating. The lines are not as long as Bryant Park, and the cost is less than Rockefeller Center. Plus it is the closest to the Wellington!
Cost: $12-19 and skate rentals are $10. The rink is cash only, and locks are $5 plus a $6 refundable deposit. If you can, bring your own lock.
Shopping the Holiday Markets
During late November through to December, many outdoor holiday markets will pop up all around Manhattan. These markets offer gifts and items from local artisans along with street food from local restaurants. The markets at Central Park , Bryant Park , and Union Square often have the same vendors, but this gives you the option to visit the market closest to you.
Department Store Holiday Windows
Many retailers have stunning holiday window designs, but NYC retailers take it to a whole new level. While visiting Manhattan, we recommend visiting Bergdorf Goodman (5th Avenue & 58th St), Saks Fifth Avenue (5th Avenue & 49th St), and Macy's Herald Square (34th St & Broadway) for stunning masterpieces. Saks has a unique twist to their windows, as they also have a lights display that runs every five minutes once the sun sets. The light show has a different theme each year and is set to a different song.
New Year's Eve
It goes without saying that if you are in New York City for New Year's Eve, then you should plan to go to Times Square to see the ball drop for a once-in-a-lifetime experience! USA Today has some great tips on how to plan for this event, so make sure to get there early!